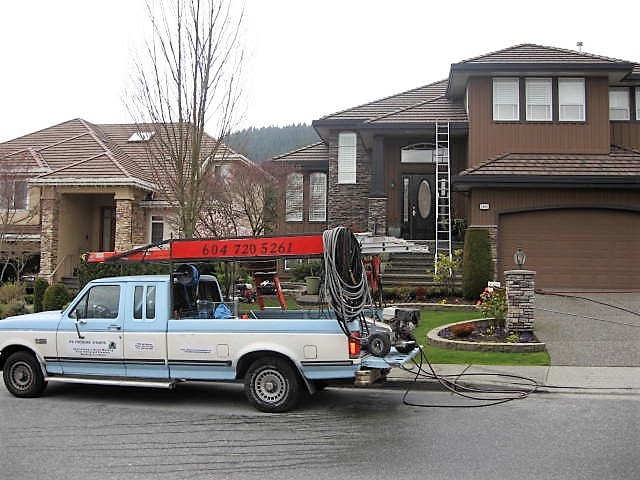 JFB Pressure Washing was established in 1991 as a family owned business by Darryl Hall for exterior building cleaner and maintenance services in Vancouver, BC. Darryl was inspired to bring growth to his community and assist customers in the exterior maintenance of their home or business to make a difference in offering his customers a pleasing environment that they can enjoy and take pride. He set out to work with one pressure washer, water fed brush wash pole, and pickup truck, advertising in the local paper and dropping off flyers on foot door to door promoting his business. In 1997, he moved his business to Port Coquitlam, BC where he and his wife purchased their first home due to their growing family. During this time, he made the decision to give a name to his business "JFB Pressure Washing", after his son (JFB stands for Just for Brandon). He quickly started to make a name for himself as he became more knowledgeable and acquired additional equipment to improve the excellence of the services that he was providing. As his cliental expanded he decided to hire more labourers and his wife became more involved as an business partner in handling the administrative duties and incoming phone calls. The company continues to learn and grow and have expanded their maintenance services to include rotten wood repairs and replacement on exterior of homes. You will find his son Brandon now working alongside Darryl and the rest of the workers at the worksite. We have been in business now for 32 years and have increased referrals from satisfied customers who have contributed to developing our commitment and reputation for providing quality workmanship in exterior cleaning building and maintenance. As our business keeps expanded we found the need to relocate to Maple Ridge to better service our loyal customers and work with our valuable business partners.

Our Services
house wash


concrete cleaner

brush wash

power wash


gutter clean

window wash

tile roof clean
tile roof repairs

asphalt roof clean
metal roof

vinyl siding repairs

wood rot repairs
exterior painting

parking lot garage cleaning
handyman services



We believe in doing it right the first time!

I want to thank you so much for the wonderful job you did on our home. Boy what a difference and the deck and railings and canopy look great. I can't wait to set up my patio furniture. Thank you also for fitting me in such short notice. You certainly have the job for next year!


Hazel,

Pitt Meadows
I want to thank you for the wonderful job you did with my house. I especially loved the way the white railing was cleaned. I had planned to wipe them by hand after you left, but there was no need. I also loved everything else that was done and I think you know how fussy I am. It's so nice to have someone that I can count on to do a good job every year.
Nora, Coquitlam
You were over to perform your skills of cleaning on our home. We are very pleased and very satisfied with your service. Your workmanship is 1st class and your manner is of equal value. You will be pleased that the cards I asked for have been accepted by other neighbours who are very impressed with the final result. Thanks for your time.
Carey,

Maple Ridge