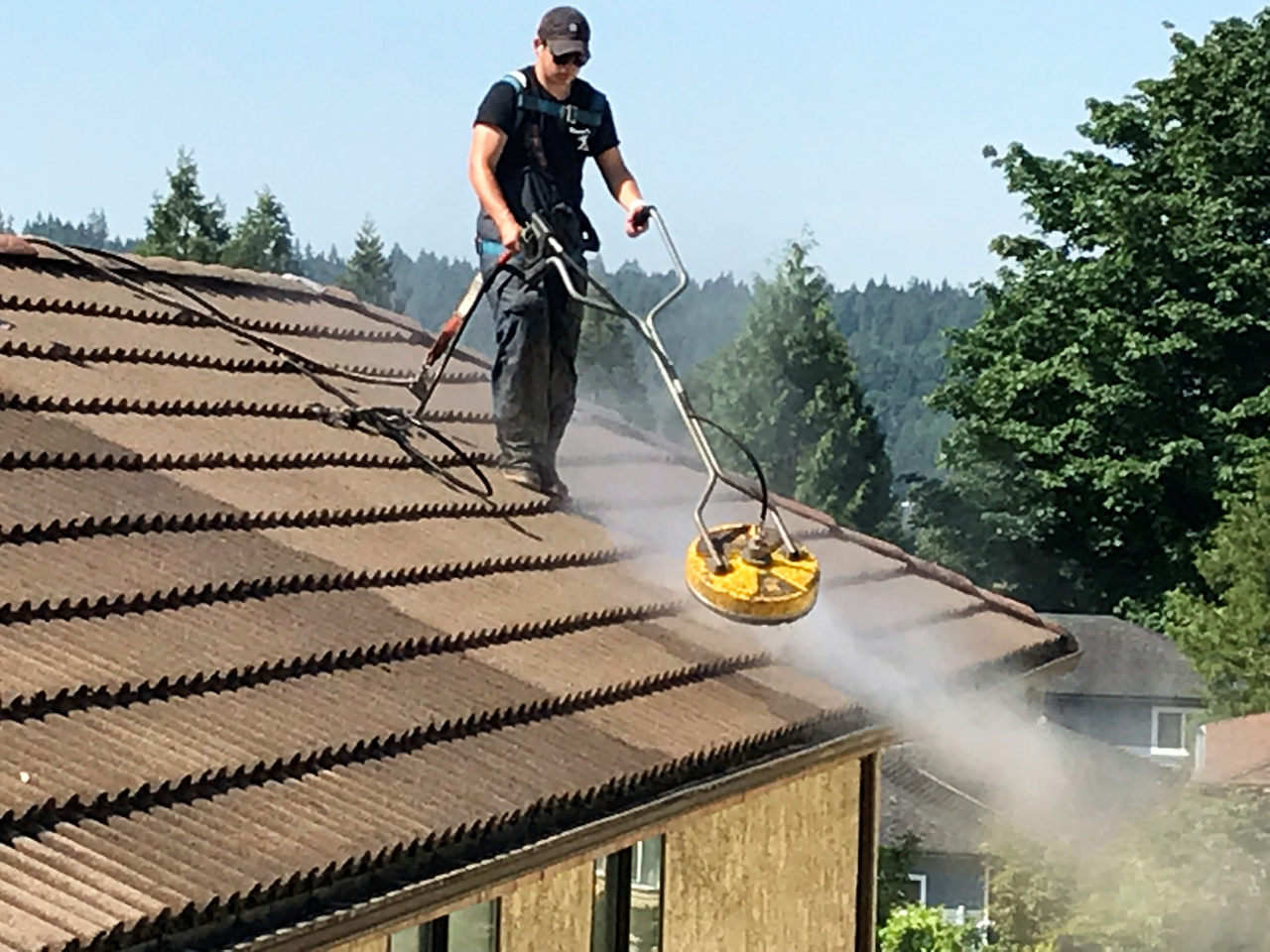 The roof system is exposed to all manner of chemical and environmental stress due to long-term effects of normal aging. In realty small isolated problems caused through abuse, stress concentration, error in installation, quality of material, tree branches hanging over the roof, or other factors result in shortened lifespan. These small problems, if undetected escalate over time until they are extensive and expensive to resolve.
The most important reason to establishing a program of regular roof maintenance and inspection is to protect the owner's investment. By not maintaining your roof, it could cost you the homeowner thousands of dollars in repairs and water damage to the interior of your home. Water should be diverted away from your home structure. If valleys are full of debris, water is obstructed and cannot run off the roof into the gutter system. Our climate in British Columbia demand that your roof and gutter system is maintain on regular basis.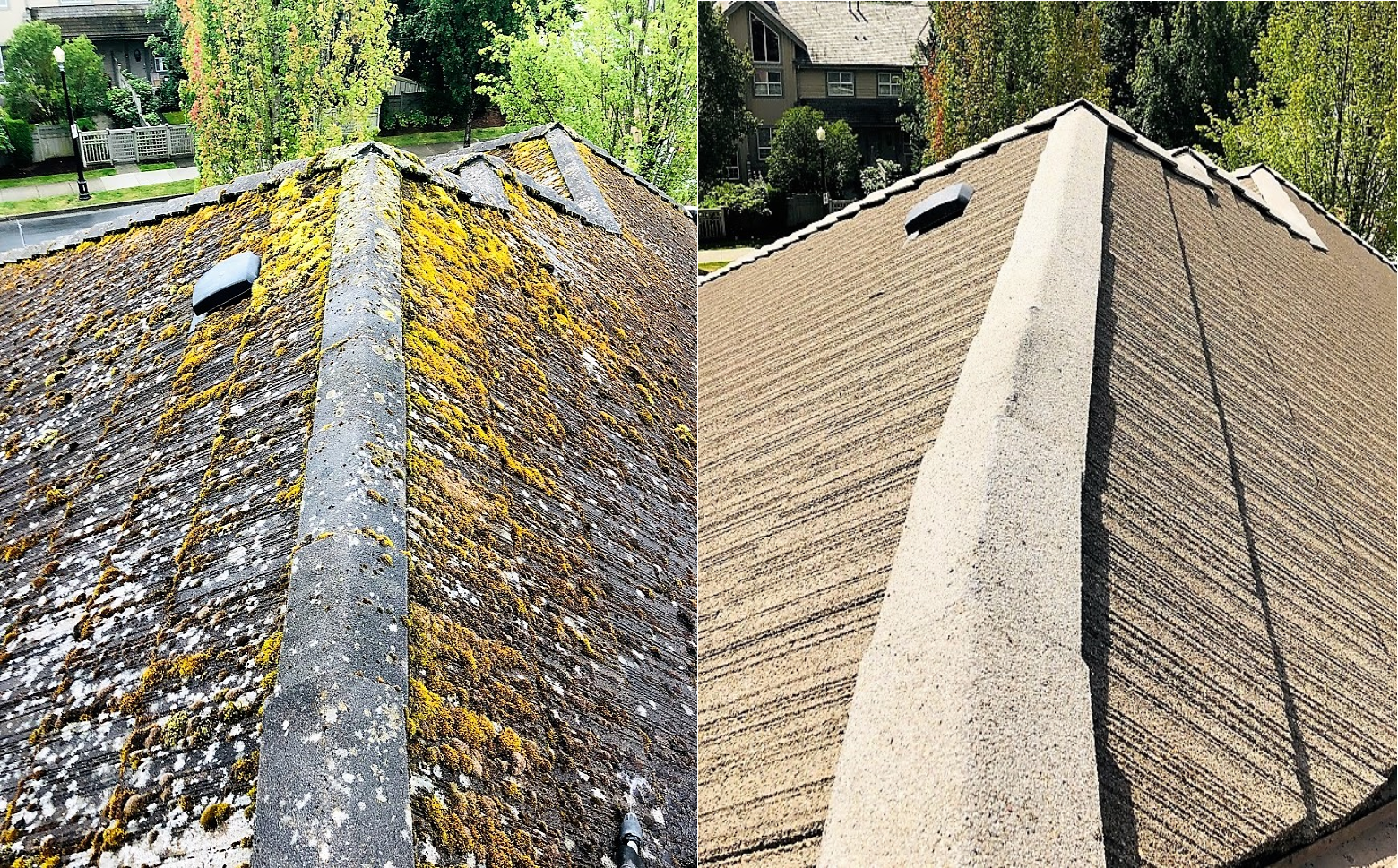 Tile Roofs

Tile roofs attract moss in the spaces between the overlapping tile's themselves and will dramatically shorten the life of your roof by destroying the integrity of each individual tile. The moss will cause several hairline cracks along the overlapping section of the tile. Those cracks will develop into breaks in the Tile. These missing pieces will allow the weather to enter your roofing or sub-roofing. In addition, during rainfall pieces of moss will enter into the gutter system and cause blocking of your down pipes. Heavy moss contamination can lead to the rapid deterioration and breakdown of roofing materials eventually necessitating costly repairs. Moss and fungus covered roof will absorb more heat and therefore, increase your utility bills. Regular inspection and maintenance of your roof is needed to prevent the likelihood of premature leaks.
Tile roofs should be cleaned every four to five years and inspected every two to three years for broken or cracked tiles. All inspections and maintenance should be performed by a qualified professional.

Tile roofs can last approximately 50 – 75 years in most cases and out live us as owners if professionally cleaned and maintained. Regular visual inspection and maintenance of your roof is needed to maximize the life expectancy of the roofing system. Roofs are exposed to the sunlight, rain, snow hail, wind and temperature changes that gradually breakdown the roofing system. Also, tiles tend to slide down due to the roof installer neglecting to support the tile with nails. All roofs require regular inspection and maintenance by a professional roofing inspector or contractor as it involve specialized knowledge, equipment, training and safety requirements. We can inspect entire roofs for cracks, sliding tile gaps, and separating top caps on roof.
If a tile roof is leaking it is most likely caused by broken or cracked tiles. However, often a tile can just slide down due to the fact a roof installer did not nail the tile in place. Sliding tiles or broken tiles will uncover the roof weaved surface membrane underneath. Therefore, allowing animals or insects (e.g. raccoons, squirrels, bees, and vermin) to gain entrance into your attic. If valleys are full of debris, water is obstructed and cannot run off the roof into the gutter system. What's more, the roof valley and ridge lines are simply bonded with tar to hold in place, which will not last being exposed to the weather elements. Damaged or clogged gutters, roof drains, and downspout can cause water back up on the roof.
In order to minimize any further water damage, we can do minor tile repairs and replace broken tiles.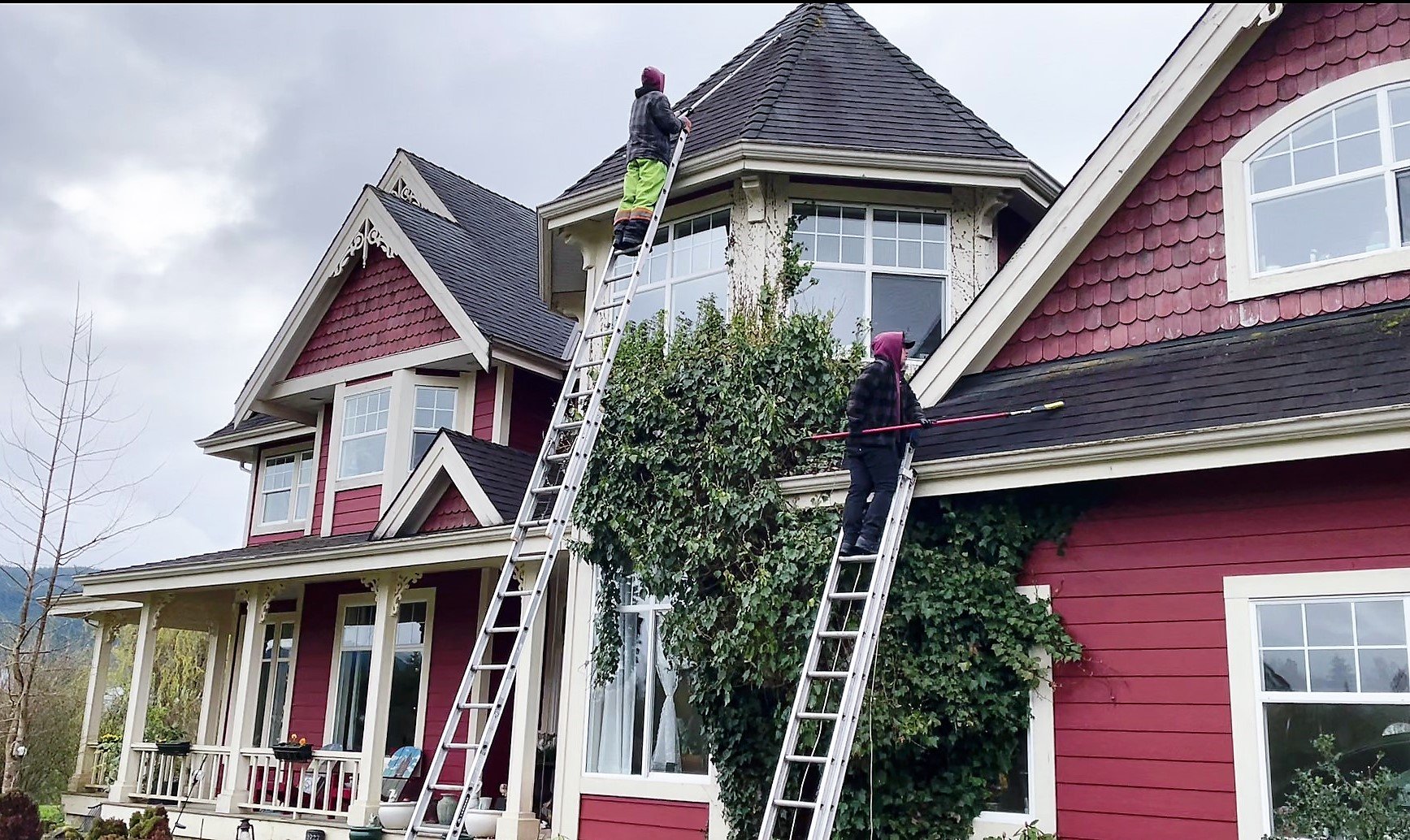 Asphalt and Cedar Shingle Roofs
Asphalt and cedar roofs should never be pressure wash as the force of water can remove the surface or break away pieces of material causing immediate leaks or shorten the service life of the roof system. Removal of existing moss growth can be swept off with a broom at the time when the moss growth is dormant. It is nearly impossible to physically remove all the moss roots and small pieces from a roof surface and being quite hardy the moss and algae will re-grow from whatever is left. We can control buildup of moss by spraying on a moss and algae removal product. Installing zinc strips will also reduce moss and algae growth, however, the effectiveness of strips will vary with the surface area of the strip and the amount of water running over it. Moss growing on asphalt roofs slowly breakdowns the blacktop.

Trees drop leaves, needles, pine cones, seeds, and branches onto your roof. The tree leaves will decay and trap moisture on asphalt roof shingles. This creates the perfect conditions for mould, algae, moss, and rotting wood. We can use a strong blower or broom to remove the tree foliage and debris from your roof.
Metal Roof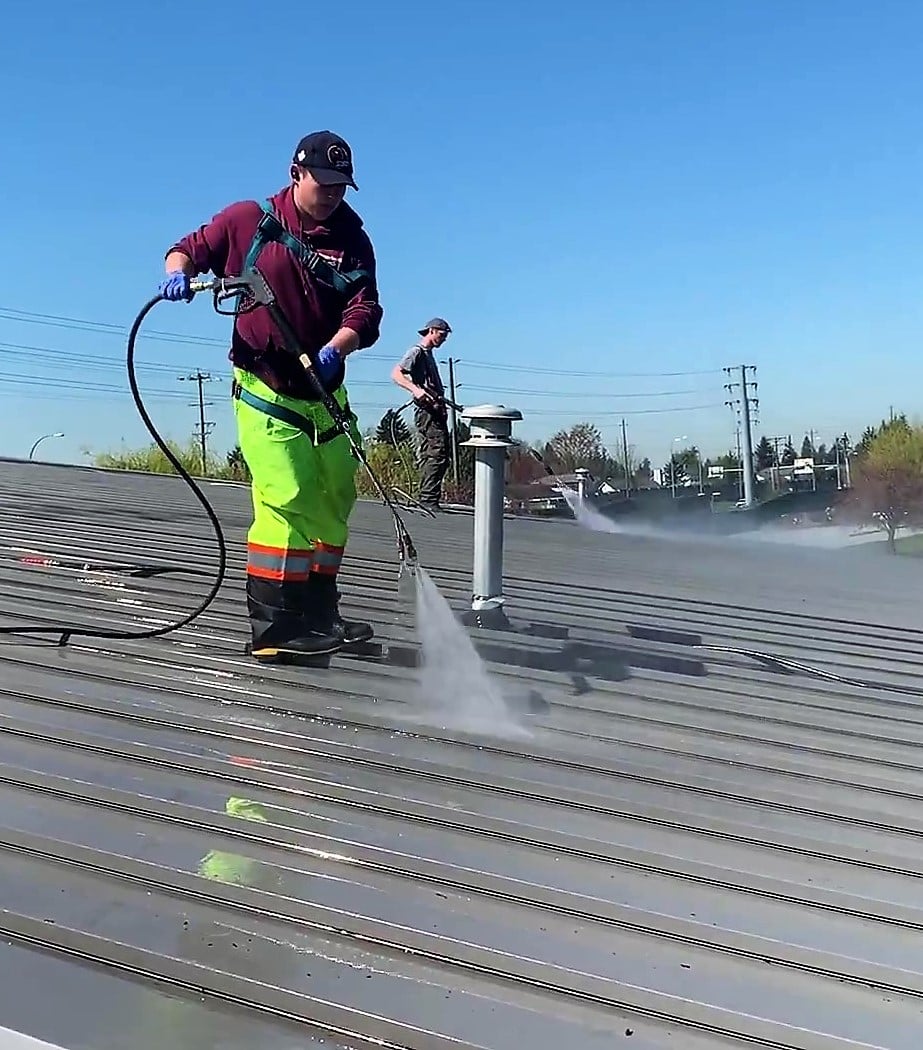 Periodic inspections of your metal roof and keeping it clean of debris, dirt, mould, and algae is the best way to ensure that it is maintain. There are chemicals present in the metal roofing material that can cause chalking residue that can become visible on a painted or coated metal surface over time. As a panel is exposed to sunlight and UV rays, the paint system's resin begins to break down and degrade and the particles begin to turn white. These particles will eventually become visible on the metal's surface or subtle in appearance and chalky residue will be evident if you swipe the panel with your finger. We can assist in the maintenance of cleaning of your metal roof.




Risk of Fire

Some city municipalities have many areas where the wilderness and urban development meet. This mean that structures and vegetation are sufficiently close together that a wildfire may spread between tress or vegetation and structures easily. Recommend that homeowners reduce the risk of fire and have their roof and gutters clear of dead needle and other accumulations such as dead leaves and prune all branches that hang over the roof.
Certified home inspector James Dobney answers viewer questions about common home repairs. Watch at the end of video for important information on roof maintenance.
https://globalnews.ca/video/rd/1302175299530/?jwsource=em